Breaking Another Record, Mark Palumbo Memorial University Orthopedics 5K Raises $52K for The Tomorrow Fund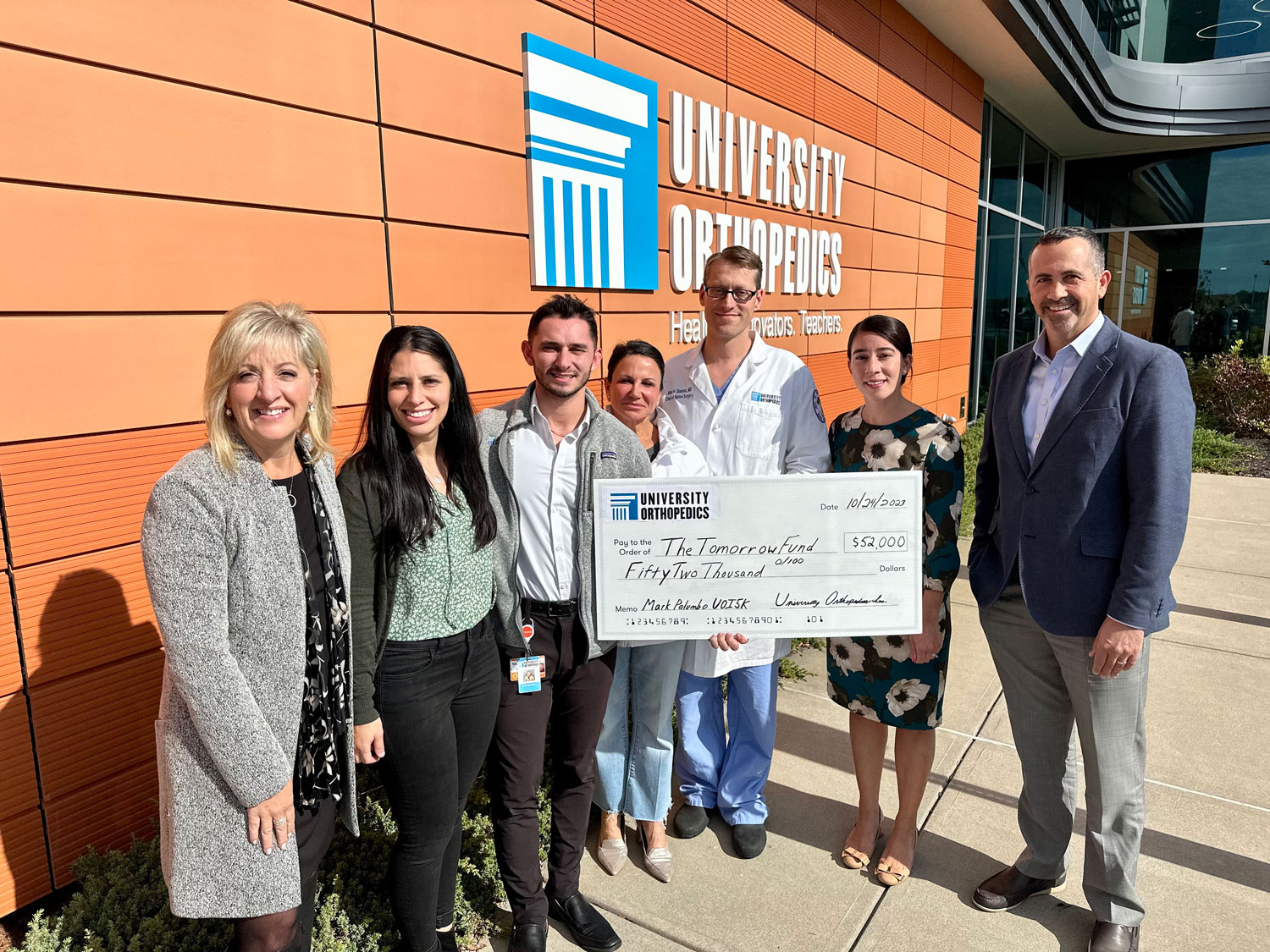 From left to right: Lisa Abbenante, Tomorrow Fund executive director; Kristen Palumbo, Dr. Palumbo's daughter and UOI Physician Assistant; Mark Palumbo, Jr., Dr. Palumbo's son and UOI Marketing Outreach Manager; Anne Palumbo, Dr. Palumbo's wife; Dr. Alan Daniels, Chief of The Center for Spine Health at University Orthopedics; Jessica Goss, UOI Staff Accountant; Chris Falzone, Tomorrow Fund Board of Directors Member, Father of two cancer survivors
EAST PROVIDENCE, R.I. — University Orthopedics and family members of late spine surgeon Mark Palumbo gathered at the practice's Kettle Point location in East Providence this week to present The Tomorrow Fund with a check for $52,000 - proceeds raised during the 2023 running of the Mark Palumbo Memorial University Orthopedics 5K. 
Hundreds of people braved the rainy weather for the September 24 event along the East Bay Pike Path. The 5K - which is sponsored by dozens of local businesses and organizations - is in its fourth year and has benefited The Tomorrow Fund the last three, raising nearly $140,000 total for the charity.
5K Check Presentation
"Every amount that is donated, small or large, helps us carry out our mission of helping children battling cancer and their families," said Lisa Abbenante, executive director of The Tomorrow Fund. "But the amount of money this event has raised over the last three years is significant and will help us support many more families."
The Tomorrow Fund provides financial and emotional support to families of children being treated for cancer at Hasbro Children's Hospital, helping cover bigger expenses like housing, utilities, and travel expenses, to paying for smaller costs like hospital parking. The Fund also provides support programs and scholarship opportunities to survivors and will cover funeral expenses for children who lose their courageous battle. 
"As a two-time Tomorrow Fund parent, we've seen firsthand how much the organization does for families," said Chris Falzone, father of two cancer survivors and Tomorrow Fund board member. "We really appreciate University Orthopedics and the people who continue to support this event. It's grown every year and hopefully, it will continue to grow in Mark's memory."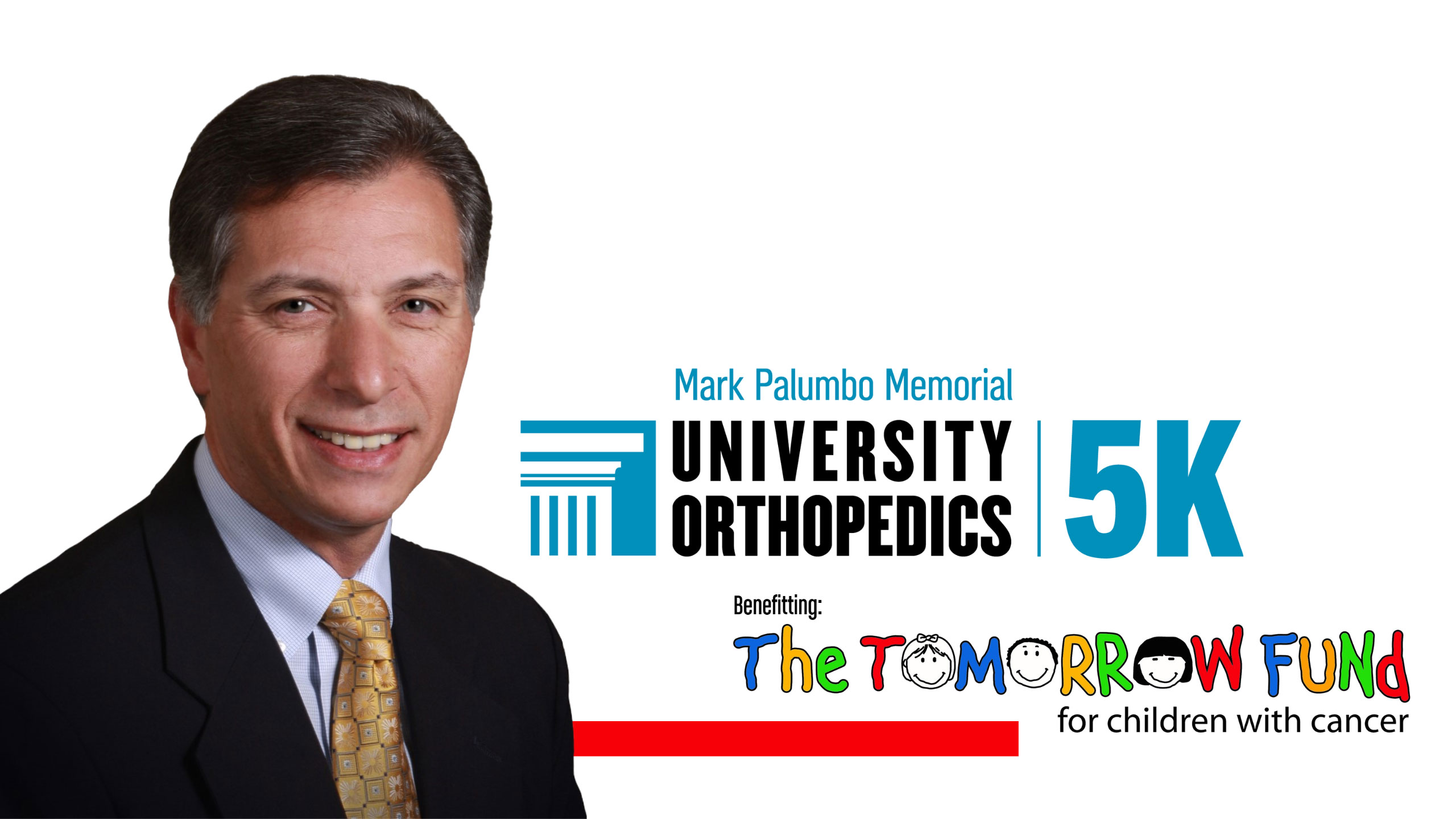 The Mark Palumbo Memorial University Orthopedics 5K is named in honor of Dr. Mark Palumbo, a renowned University Orthopedics spine surgeon who passed away in 2019. In addition to being a highly regarded doctor, he was also extremely active in the community. The Palumbo family has supported The Tomorrow Fund and held active roles with the Providence, RI-based charity for many years. 
"The Tomorrow Fund was a charity Dr. Palumbo enjoyed giving to and raising money for, and for us to continue his legacy of generosity after his passing has been a real honor for all of us at University Orthopedics," said Dr. Alan Daniels, spine surgeon and chief of The Center for Spine Health at University Orthopedics.
Anne Palumbo, Dr. Palumbo's wife, once again took an active role in planning this year's event along with her daughter, Kristen Palumbo, a physician assistant at UOI, and son Mark Palumbo Jr., a marketing outreach manager with UOI.  From Gray Matter Marketing, which handled race-day operations, to local businesses and organizations that made monetary and raffle donations, University Orthopedics' partners were once again vital to the success of this event.
"The sponsors and the participants who participate each year are helping us keep Mark's memory alive, but more importantly, they are supporting our community and children who are sick," said Mark's wife, Anne Palumbo. "This year was a big success. We'll be back next year, and it will be even bigger and better."
About the Race
Hundreds of people took part in the Mark Palumbo Memorial University Orthopedics 5K, which started at UOI's Kettle Point campus in East Providence and continued along the East Bay Bike Path with beautiful waterside views of the Providence skyline. Corey Palumbo, Dr. Palumbo's nephew, finished first overall, with a time of 16:19. Kathy Pearman came in second and was the winner of the women's race with a time of 20:19. Their names will be placed on a plaque dedicated in Dr. Palumbo's memory. 
---