×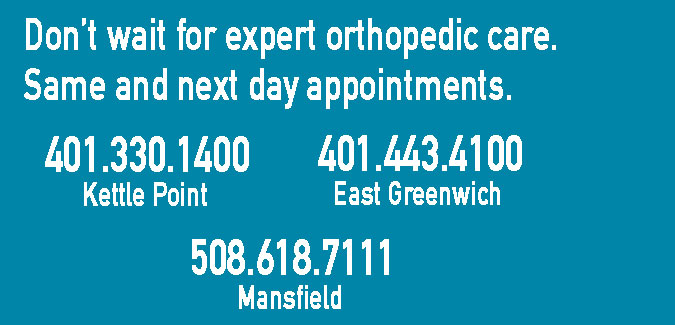 ×
We will be closed on July 4th, 2021 for Independence Day. We will reopen Monday at regular business hours. If you are experiencing an emergency please call 911.
×
We will be closed on May 31, 2021 for Memorial Day. We will reopen tomorrow at regular business hours. If you are experiencing an emergency please call 911.
University Orthopedics initiated OrthoDirect to increase patient access to expert orthopedic care when you need it most. This service adds to our regional care of orthopedic and rehabilitation care. With a mission to provide the highest quality orthopedic care integrated with world-class education and research, University Orthopedics includes more than 40 board-certified, fellowship trained musculoskeletal and sports medicine physicians. These specialists are faculty members of the Department of Orthopaedics at the Warren Alpert Medical School of Brown University who teach medical students, orthopedic residents, and fellowship subspecialty surgeons. University Orthopedics leads the way with Basic and Clinical orthopedic research on the latest advances in orthopedic surgery and injury prevention.

OrthoDirect at University Orthopedics offers same-day and next-day appointments, and is staffed by orthopedic- and sports medicine-trained clinicians. On-site x-ray is available to expedite injury assessment. Our physicians are fellowship-trained, board-certified and hold certificates of added qualification in sports medicine. Our providers specialize in both operative and non-operative treatments. Our surgeons specialize in the arthroscopic repair of sports-related injuries, complex shoulder and knee reconstruction, shoulder instability and advanced cartilage procedures. Our physicians understand the impact an injury may have on the patient and the importance of prompt diagnosis and treatment.
Kettle Point
1 Kettle Point Avenue
East Providence, RI 02914
Phone: 401-330-1400
East Greenwich
1598 South County Trail, Suite 203
East Greenwich, RI 02818
Phone: 401-443-4100
Mansfield
10 Reservoir Street
Mansfield, MA 02048-3104
Phone: 508-505-4000
Why Ortho Direct
OrthoDIRECT, a division of University Orthopedics, provides patients with access to acute orthopedic care. Offering same day and next day appointments, OrthoDIRECT is staffed by orthopedic-trained physicians to ensure that all patients receive an accurate diagnosis and appropriate treatment plan. On-site X-ray technology is also available to provide an expeditious assessment of orthopedic needs. 
OrthoDIRECT physicians are committed to delivering a higher level of orthopedic care. Personalized patient evaluations ensure acute orthopedic concerns are addressed immediately, helping to reduce patient pain and discomfort.
What do we treat at Ortho Direct?
Our skilled surgeons treat patients with acute orthopedic concerns resulting from:
New and acute problems without previous treatments
Sprains, strains and other musculoskeletal acute injuries
Possible fractures (No open or displaced fractures, please seek treatment at the Emergency Room)
*FOR SERIOUS INJURIES SUCH AS HEAD TRAUMA, SPINE INJURIES AND OPEN FRACTURES PLEASE SEEK TREATMENT AT YOUR CLOSEST HOSPITAL EMERGENCY ROOM. PLEASE DO NOT SEEK TREATMENT FOR CHRONIC INJURIES, PAIN MEDICATION OR SECOND OPINIONS AT ORTHO DIRECT.
Participating Providers